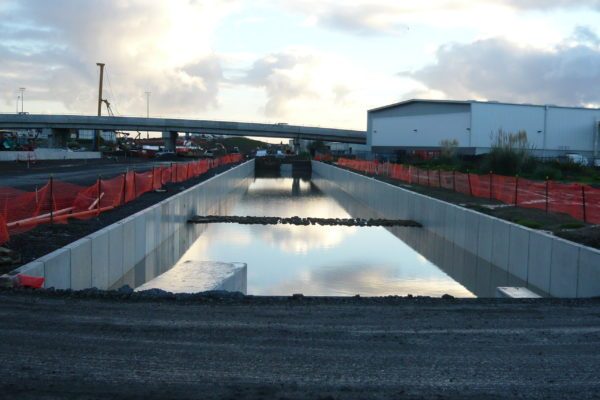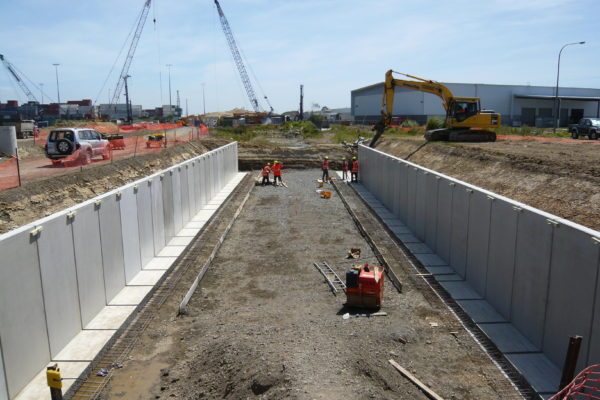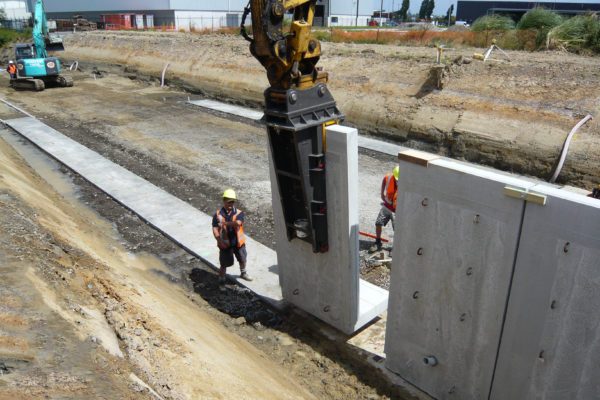 The Lusit Angle Support Retaining system provides a fast and reliable precast retaining option.
In late 2008, Brown and Thomson Engineers contacted Lusit enquiring about the use of the Lusit Angle Support Retaining System for the new Head office and distribution complex they were designing for their client Blackwoods Paykels, in the Goodman Property's Highbrook Industrial Park in Auckland.
Goodman Property had already utilised the Lusit Angle Supports (LAS Elements) on other projects at the Highbrook Industrial Park. They were well aware of the structural integrity and quality of the LAS Elements, and the professional service that Hynds provided.
The requirement was to retain the forecourt and parking area around the new building in such a way, that it would not be compromised as future excavation and development on neighbouring sites continued. The engineer's proposal involved 30 lineal metres of retaining of up to 3.8 metres in height.
A combination of 250mm and 200mm thick LAS Elements was proposed in a staggered head formation, rising in 200mm steps from 2.8m in height. The LAS Element directly adjacent to the building also had to be modified to accommodate the building's protruding foundations. Hynds facilitated this by rearranging the structural steel within the appropriate LAS Element so as to enable a cut-out to be formed during manufacture. With dimensional advice from Hynds, the LAS Element was then chemset bolted to the building and footing with a series of brackets.
We determined that the LAS Elements with a shortened precast foot would be used with rebar extenders for a final 40MPa in-situ pour. This then provided the required cantilevel foot length to comply with the overturning and sliding factors of safety. This also enabled on-site costs for the foundation requirements to be substantially reduced.
In late February 2009 the LAS Elements were manufactured in a timely manner, placed on pallets and stored in the Hynds yard ready to be delivered to the site for installation. Then in March 2009, the products were loaded onto standard flatdeck trucks and transported to the site, where they were lifted off and installed. Hynds also supplied the appropriate, cut to size jointing materials (Compriband and Bituband) to facilitate the quick installation.
The civil contractors responsible for the foundation preparation and installation work used a 20 tonne digger to carry out the installation procedure. Once they had completed the foundation preparation, the installation was quickly completed in just two days.
A comment from one of the installers, who had experience in installing other types of retaining walls, was that most other systems required a crew of some 5-6 people, whereas the LAS system only required a team of 3. With each LAS Element they placed, they had achieved the complete vertical retaining height in the one action.
Project
Blackwoods Paykels New Head Office
Client
Location
Highbrook Industrial Park, Auckland
Product