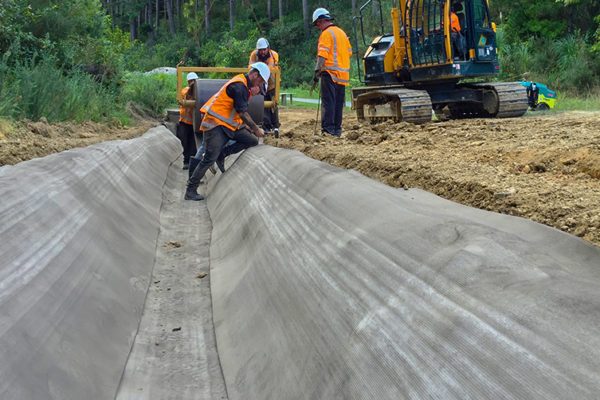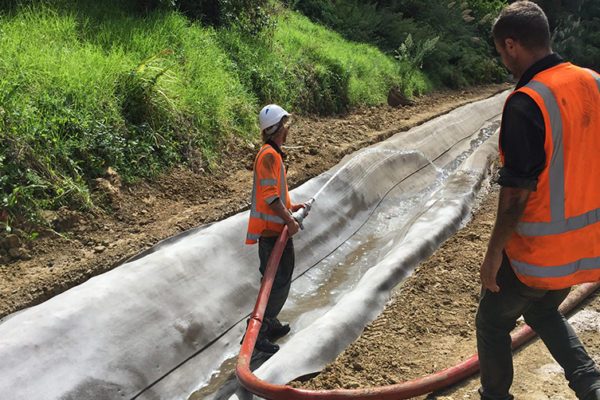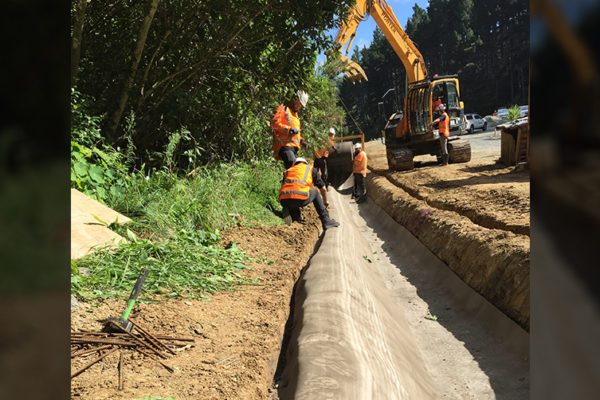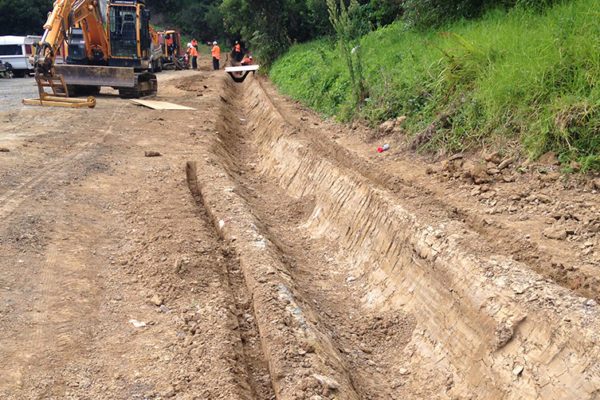 About 60 minutes north of Auckland between Matakana and Leigh, bordering the Whangateau Harbour is where the site is located - an old quarry, which became a local landfill. It became an environmental issue due to a natural waterfall at the back of the quarry that flowed through a broken drain to the estuary.
The project was to create a new drain that would transport the water above the now capped landfill to an existing manhole. Hynds worked with the team at Downer to find the best solution and 8mm thick Concrete Canvas was the answer. It would line the new drain and prevent scouring during high flows. Other options included boxing and pouring an insitu drain, or using precast channels. Both were discounted due to the soft ground conditions and the installation time.
A large amount of new clay was brought in and compacted to create the new drain. This had to be done quite a few times as every rainfall would wash out sections that had to be repaired or completely re-done. After several postponements due to weather, installation day finally arrived. The entire 150m long drain (600m2 of Concrete Canvas) only took a few hours to lay. Each 125m2 roll of Concrete Canvas took less than an hour to unwrap, load on the excavator, roll out, and peg into place.
Once all of the Concrete Canvas layers were in place and secured, hydrating could take place. This was done with a water truck and lay flat hose. The water was gravity fed onto the Concrete Canvas at a measured rate to ensure it was adsorbed and would activate the cement. Rain fell overnight and additional hydrating was done the next day to make sure that there was full coverage. The Concrete Canvas was already starting to cure and harden in place
There were a number of people involved in the project over the past year on site to view the installation and all of them were very pleased to see it finally happen as planned. Final ground works will include topsoil and grass seed to help the drain blend the surrounding area. Concrete Canvas was a cost and time effective solution to a difficult problem.
Project
Contractor
Location